Application of precise stop function of Danfoss FC51 inverter
Jan 07,2022 | simplybuy industrial
Many industrial machinery and equipment, such as vertical packaging machines, canning machines, small motor manufacturing equipment, etc., require the machine spindle to be accurately stopped at a specific position when it is stopped. At the same time, due to fierce market competition, customers hope to use cost-effective solutions to solve the application problem of precise stopping.
Danfoss FC51 series inverters have a built-in precise parking function. With excellent braking performance and extremely competitive prices, they have become an ideal choice for customers and have achieved similar effects as high-end inverters.
Take the precise stop function application recently implemented by Shanghai Xinling for customers as an example. The mechanical structure is shown in Figure 1.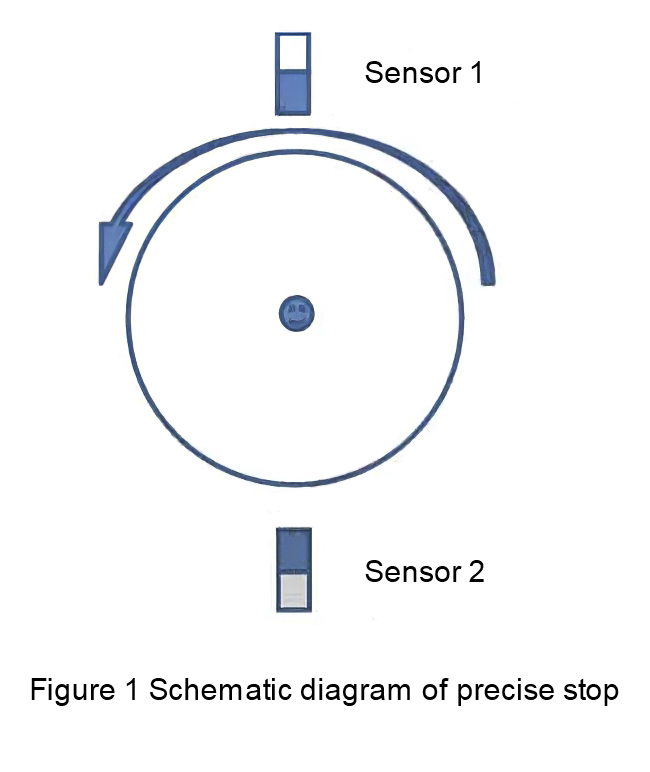 A position detection sensor is installed at the upper and lower ends of the machine spindle, and the reduction ratio of the spindle motor reducer is 1:10. Assuming that the motor is currently running at 62Hz, it takes 333ms for the spindle to make one revolution per rotation based on the estimation of the motor speed at 1800rpm.
1. When the stop command is issued, the controller receives the signal of sensor 1 and immediately changes the output frequency setting of the inverter to 35Hz through communication. The motor will decelerate from 62Hz to 62Hz within half a revolution, that is, within 165ms. 35Hz speed action.
2. When the controller receives the signal from sensor 2, it further reduces the motor speed to 7 Hz in the same way. Because of the excellent performance of the FC51 inverter, the above two deceleration processes can be easily and stably realized.
3. When the signal from sensor 1 is received again, the controller immediately disconnects terminal 33 of the inverter, triggers the precise stop function logic of the inverter, and stops the spindle at a high speed, achieving very high repeat stop position accuracy.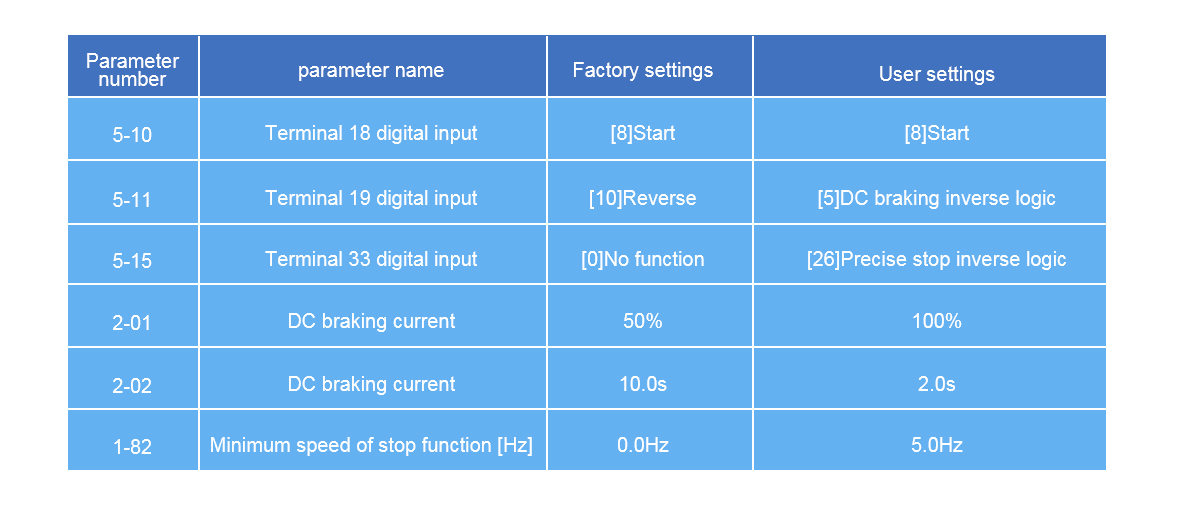 Keep the factory default settings for other unrelated parameters. It should be noted that the precise stop inverse logic function of FC51 can only use terminal 33.
Comment